みなさん、12/7の地震の際、お祈りありがとうございます。
地震の翌日、海に囲まれた七ヶ浜の方々の訪問に行ってきました。多くの方が3.11のフラッシュバックで恐怖に襲われて、無我夢中で避難した、と語っていました。
ある足の悪くて歩けないおばあちゃんとお嫁さんは、お互いにパニックで大げんかになり、なんとか一緒に避難したものの、一日あけた次の日も口を聞けるような状態ではないと話していました。
ある被災したガソリンスタンドの店長さんは、震災後、なんとか頑張ってガソリンスタンドを修理し再会したけれど、満潮時に1mの津波が来たら、再び被災してしまう。今後のことを考えるとお先真っ暗だ、と話していました。
ある女の子は、3.11を思い出して、頭を抱えて「助けて!嫌だ嫌だ!」と泣きながら、お母さんと一緒でなければトイレも行けないくらい混乱したと聞きました。
多くの方が不安と苦しみの中にいます。ぜひお祈りに覚えていただけたら感謝です。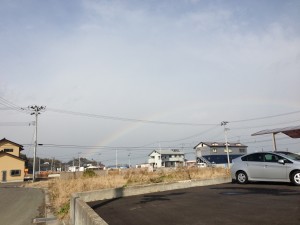 Friends, thank you for your prayer when the earthquake happened on December 7th.
I visited Shichigahama surrounded by ocean very next day. People said the 3.11 nightmare flash-backed and fears overcame them and evacuated to higher places.
One lady shared that she had a big argument with her mother-in-law who cannot walk when tsunami was warning. She was still having difficult time to even say hi
to her mother-in-law very next day.One guy who owns a gas station was very depressed. His gas station was effected by 3.11 tsunami and he restored it using his saving. Yet if 1-meter tsunami hits Shichigahama, he will lose the gas station and only debts will last. He says he doesn't have hope in future.One girl was reminded 3.11 and was screaming "Help! Help!" and couldn't be alone even to a bathroom.Many people are still in fears and pains. Please remember them in your prayer.